Invisalign- Topeka, KS
Revealing Better Smiles
If you have crooked, crowded, or gapped teeth and would like to improve the way your smile looks and functions, you are certainly not alone. More adults than ever are choosing orthodontic treatment these days, but that doesn't mean they're covering up their smiles with metal brackets and wires.
Today, there's a better alternative -- Dr. Michael Michel is pleased to offer clear braces with Invisalign in Topeka and Silver Lake. The treatment offers adults and teens a clear alternative to traditional braces.
What is Invisalign?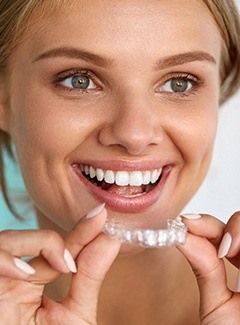 Invisalign is a revolutionary orthodontic treatment system that straightens teeth using clear, plastic aligners instead of brackets and wires. While you may choose to tell your friends and family that you are straightening with Invisalign, many people won't even notice you are undergoing orthodontic treatment while you wear the discreet aligners. What's even better is that the aligners are removable, so you can take them out to eat, brush, and floss with ease.
The Invisalign Process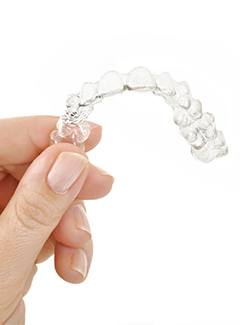 To set you up with your personalized Invisalign treatment, Dr. Michel will first take digital scans to create a three dimensional model of your smile. This model is then sent to the Invisalign lab, where your trays are created according to the specific dimensions of your dentition.
After your personalized series of aligners is complete and has been sent back to us, you will make a quick visit to our Topeka or Silver Lake dental practice to check the fit. After that, simply wear your aligners as directed -- and watch as your teeth transform!
Some specific guidelines to follow during the Invisalign treatment include:
Wear the trays for 20 to 22 hours each day.
Remove the trays to eat, drink, brush, and floss.
Do not expose the trays to hot temperatures, which could cause them to warp.
Clean the aligners using the Invisalign cleaning system.
Maintain excellent dental hygiene habits to prevent cavities and gum disease.
Get in touch with your dentist right away if you lose, break, or have any type of problem with an aligner.
The Benefits of Invisalign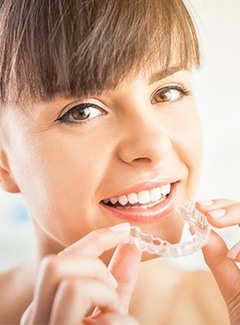 The benefits of Invisalign are significant, and include:
Subtle trays allow for more privacy throughout treatment.
Removability means you can continue to eat what you like throughout treatment.
Smooth plastic is far more comfortable to wear than metal brackets and wires.
No special maneuvering to brush and floss -- just take the aligners out.
Fewer dental appointments are necessary as compared to traditional braces.
The Cost of Invisalign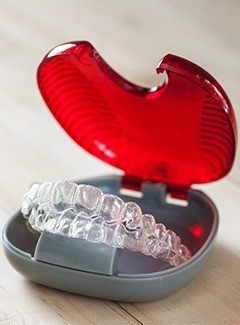 While Invisalign is very comparable to the cost of traditional orthodontic treatment, price does vary with each unique case depending on the length and complexity of your treatment. Many dental insurance plans provide an orthodontic benefit, which includes coverage for Invisalign.
The best way to determine what the cost of your treatment will be is to contact Dr. Michel and schedule your own Invisalign consultation.
Dr. Michel and the team at Michel Dental are passionate about revealing straight, beautiful smiles with Invisalign. We have significant experience with Invisalign and can also provide a number of other cosmetic and restorative treatments to help you enjoy your very best, most beautiful smile. Many patients enjoy combining their Invisalign treatment with professional teeth whitening -- we'll put together a plan that suits you best!
Contact us to schedule an appointment today.