Silver Lake & Topeka Partial & Full Dentures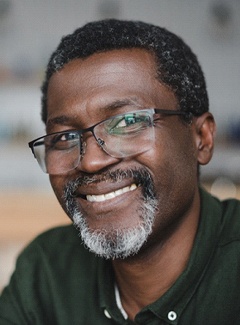 If you've lost a number of consecutive and nonconsecutive teeth or a full row of teeth, the Michel Dental team can help. We offer our patients custom crafted, high quality Silver Lake and Topeka partial and full dentures. Using the latest materials and treatment methods, we can deliver comfortable, functional dentures that keep patients of all ages smiling. If you want to learn more about partial and full dentures or any of our preventive, restorative, and cosmetic dentistry services, call our office to schedule your treatment consultation at Michel Dental today. We'll assess your situation and help you find the right treatment option to meet your needs.
What are Partial Dentures?
Partial dentures are used to fill the gaps left by numerous lost teeth. They are shaped using a gum-colored base material to support all of the replacement teeth within a single prosthetic. The base fits snugly between the remaining healthy teeth. Partial dentures are held in position using metal clasps.
What are Full Dentures?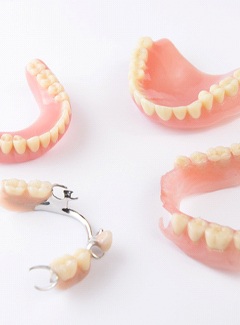 Full dentures replace an entire row of teeth. Like partial dentures, they are crafted using a gum-colored base to support the replacement teeth. Because there are no healthy teeth remaining to provide support for a full denture, it is held in place through natural suction between the gum and denture base. Patients can also use a small amount of denture adhesive to improve the stability of their dentures.
How are Dentures Crafted?
In the past, dentures were made from heavy materials that could cause discomfort and even damage remaining healthy teeth. Today, dentures are made from light weight, acrylics and quality porcelain and ceramics that make them lighter weight and more comfortable. Just because they aren't as heavy as the old fashioned dentures doesn't mean they won't last just as long. In fact, most patients can maintain their partial or full dentures for seven to ten years with proper care.
How do I Care for My Denture?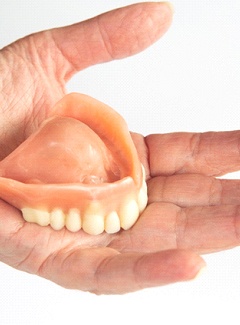 You will still need to clean your prosthetic teeth. Simply remove your dentures in the mornings and at night before bed. Use an ultra soft toothbrush or specialized denture brush to remove food particles and plaque buildup. You should store your denture in cool water or denture cleaning solution any time you're not wearing it to prevent the denture from drying out. If you have healthy teeth remaining, you'll still need to brush and floss them. During your six month dental exams, we'll assess the fit and function of your denture and make repairs as necessary to prolong the life of your partial or full denture.
Can I Improve the Stability of My Denture?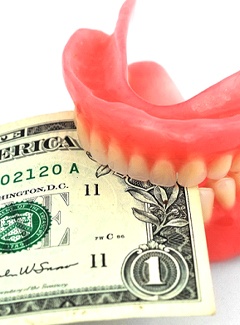 In addition to removable partial and full dentures, we are happy to offer implant-retained tooth replacement prosthetics. These tooth replacement options offer increased stability and longevity, creating a more natural look and feel. Traditional removable dentures only restore about 20% of healthy chewing function, but an implant retained denture can repair 70% or more, allowing you to consume a wider array of foods. These treatments require a financial and time commitment on the front end, but the long lasting, natural results make this investment worthwhile.